Ruby Rodriguez's sis Dr. Sally Gatchalian, die because of COVID-19.
Dr. Gatchalian is the president of the Philippine Pediatric Society who die morning, Thursday, March 26th.
Ruby confirmed the death of the sister herself, in an official statement she shared on Facebook:
"As of 6am my sister Dr Sally Gatchalian who fought really hard, Has Joined our Lord God and creator.

"We her family Thank you all since Praying with us.

"Stay Safe and keep on praying"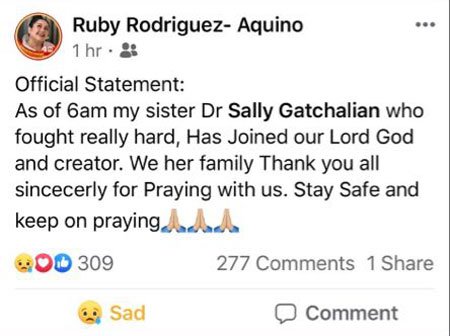 Bossing Vic Sotto and Pauleen Luna had just prayed for their Nine Sally, Pauleen couldn't help but cry.
At 6:00 am Dra passed away. Sally Gatchalian, Pauleen confirmed to me.
She still doesn't know what Ruby's next plan will be for her sister's death.
They were just talking to Ruby for a moment.
What they are asking is that they continue to pray after this, and hopefully no health workers will be affected by this COVID-19.
In addition to protecting ourselves by adhering to the home quarantine, we should also provide protection to our health workers, our frontliners.