If you've been keeping track, After months of teasing their arrival, Intel has finally unleashed its 10th Generation Core Processors on the world.
Intel's next generation of CPUs is now official and headed to a slew of new PCs. Here's everything you need to know.
These 10th generation high-powered mobile processors feature the same 45W TDP, 14nm manufacturing process, and cache size compared to their previous generation.
The new 10th gen chips offer higher boost clocks across the board, with their top of the line model operating 400MHz faster compared to last year's i9-9980HK.
Max supported RAM speed has also been increased, now able to reach 2,933MHz in dual channel compared to 2,666MHz.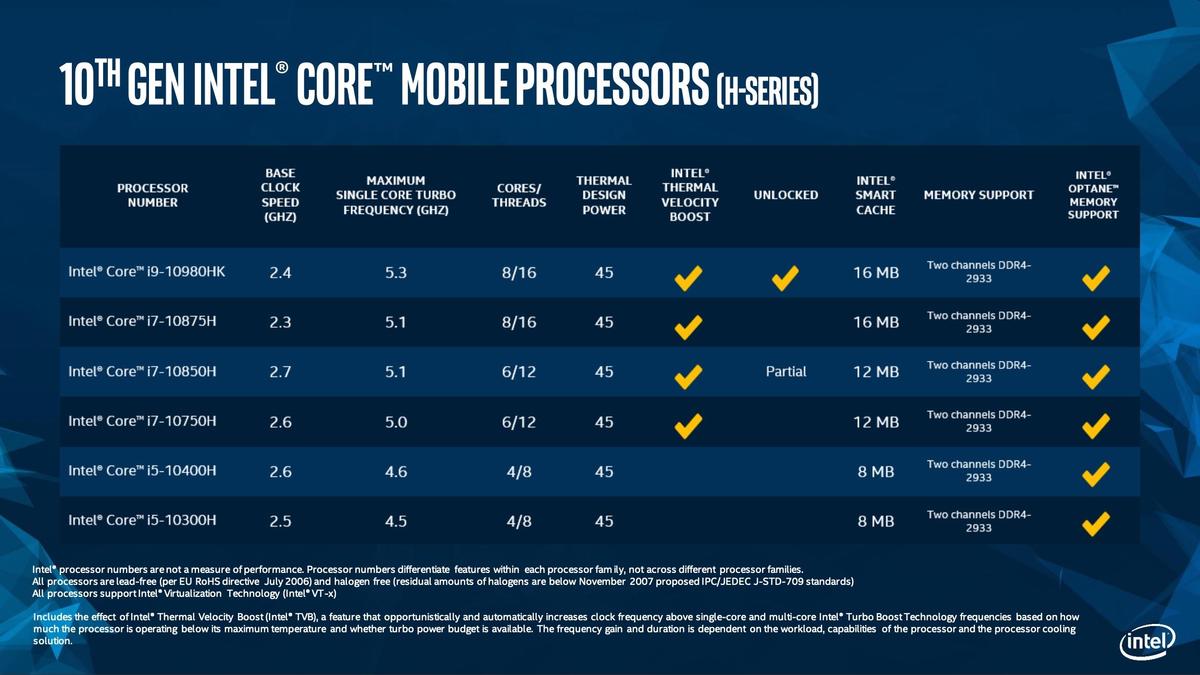 Improving graphics performance is also a focus of these 10th Gen Core chips. Though integrated graphics will still pale in comparison to dedicated graphics cards and chips, advances in the latest version of Intel's Iris Pro graphics should allow for smooth 1080p gaming in games like Fortnite and Dirt Rally 2, along with more efficient 4K video editing and photo processing. Intel has also added support for VESA's adaptive sync standard, which should help to keep frames running smoothly on compatible displays without screen tearing.
For now, the 10th Gen Intel Core chips are only available for laptops, but this is just the start. Whether you're looking to pick up a new laptop, or waiting to get your hands on a desktop part, here's everything you need to know.
New laptops with the H-series chips should be available in the coming weeks, with manufacturers like Asus, MSI, Gigabyte, and more all debuting new or updated hardware alongside Intel's announcement.